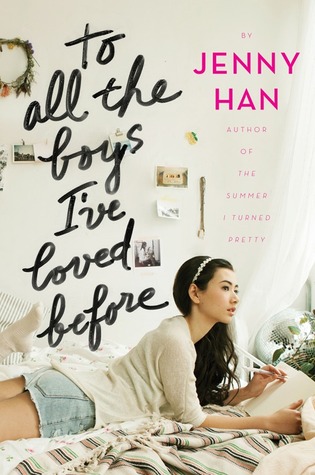 Title: To All The Boys I've Loved Before
Author: Jenny Han
Pages: 355
Publisher: Simon & Schuster (US)/Scholastic (UK)
Published: 2014
Source: Bought
Rating: ★★★★
---
To All the Boys I've Loved Before is the story of Lara Jean, who has never openly admitted her crushes, but instead wrote each boy a letter about how she felt, sealed it, and hid it in a box under her bed. But one day Lara Jean discovers that somehow her secret box of letters has been mailed, causing all her crushes from her past to confront her about the letters: her first kiss, the boy from summer camp, even her sister's ex-boyfriend, Josh. As she learns to deal with her past loves face to face, Lara Jean discovers that something good may come out of these letters after all.
---
This isn't my first time reading this book. No, it's not my second time either. It is in fact my third time reading this book. When I first read this book, it was 2014 and it had only been released for a few months. Even when I read it 4 years ago, I fell in love with it immediately. I loved the writing, the story line, the characters. I just love it all. I think that's what brings me back to this book every time. It's so easy and quick to read.
With the release of the adaptation on Netflix in August which I have watched twice so far (review here), I found the temptation to return back to the pages of this book very difficult to resist. I started it on a Saturday night and by Monday evening, I had finished it.
As I've already mentioned, it's such a quick read and the writing makes it so easy to follow. The chapters are also relatively short and snappy and so I found myself cruising through this book at a really comfortable space. Jenny's writing throughout all three books is like this. The story is incredibly easy to follow too.
The story follows Lara Jean Covey as she navigates through high school. It really kicks off when Lara Jean's 5 letters, which she writes when she has a crush on someone but doesn't know what to do, get sent out to the recipients. This results in a fake relationship which sort of helps get Lara Jean in the clear with the other letter recipients but also helps one of the boys out.
I think Lara Jean is such a cute character. In this book, she has an almost need to fill in for her big sister Margot who has left to go to University in Scotland. Lara Jean has to step in a little for her younger sister Kitty and become a little more responsible, which is difficult for a teenager to do when they have all these other things going in on their life. I thought that she was a good character and that she is perhaps how a lot of teenagers are.
I loved both of Lara's sisters and really enjoyed reading about her relationship with them and her dad. I thought Josh was also a good character although I found myself both frustrated but also sympathising with him at times. Peter Kavinsky is, of course, a great character and is my favourite of all the boys. I thought he brought a lot of fun to this story and there were plenty of cute moments between him and Lara. I did find myself getting frustrated with him at times, but you have to remember when reading these books that the characters are teenagers and part of being a teenager is doing things that are frustrating but learning from them.
It's a little difficult to write a review on a re-read because I can't give you my reaction from reading it for the first time but I think it's fair to say that I enjoyed this book just as much as I did the first time I read it. Perhaps more, now that I've got the imagery in my head from the movie as that's really helped me imagine things more. To All the Boys is a cute story and it's always lovely to reread. I feel like I can rely on it to help me out of a reading slump and that I could pick it up and figure out where I am in the book really easily. I'd recommend this book if you're looking for a quick and enjoyable contemporary and I would definitely advise that you read this if you plan to watch the movie or if you've watched it already!